Source: http://hamgallery.com/qsl/country/Kure_Island/ Courtesy K8CX
---
The 1997 Midway/Kure DX Foundation DXpedition K7K
A joint scientific/radio operation including fish and wildlife scientists and the members of the Midway-Kure DX Foundation's 1996 Midway team was carried out in 1997. The team included four scientists from the U. S. Department of Fish and Wildlife and the following radio operators: Kimo Chun KH7U, Andy Chesnokov UA3AB, Michael Goode N9NS, Randy Martin KØEU, Burt Myers WØMY (ex WØRLX), Erik Sjölund SMØAGD, Frank Smith AHØW/OH2LVG, and Yuji Yoshitani JA3IG/K1NT. The team flew to Midway, then took the ship S. S. Midway to Kure Atoll.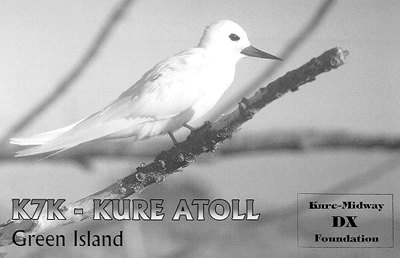 Antennas used during the operation included Force-12 C-3's, Force-12 80 and 160 meter verticals, Force-12's new WARC-7 tribander, HF2V verticals, a Cushcraft A3WS and the German-made Titanex 40-80-160 meter vertical. The team also enjoyed the benefits of the SMØAGD 20-meter Special, a vertical quickly assembled by Erik SMØAGD from the broken remnants of one of the beams destroyed during the reef landing.
Sensitive to the ecological concerns of Kure, including beaches covered with plastic and glass garbage that continuously floats ashore, the K7K team undertook to assist the fish and wildlife scientists with their clean-up work. Team members, when not on-the-air, worked side-by-side with the F&W personnel to clear several meadows of a non-indigenous bush-weed that has become a menace to Kure's ground-nesting birds. The team left some equipment in storage on Kure.
After leaving Kure, the team returned for a 2-night, one-day stay on Midway where they made approx. 3,000 QSOs as K4M before returning to Kauai and onward to their respective homes. As chairman of the Midway-Kure DX Foundation, Frank AHØW and Yuuji Yoshitani JA3IG/K1NT also worked out an arrangement with officials on Midway whereby two permanent HF stations will be installed in Midway's hangar to include two fully-equipped ICOM HF stations and Force-12, Cushcraft and other antennas. [The status of this equipment is not known to the author]. Contact for Frank R. Smith (AHØW, OH2LVG) is cqdx@primenet.com. Contact for the MKDXF is mkdxf@aztec.asu.edu.
QSL's for the 1997 Kure Atoll, K7K, trip may be requested directly from Mr. Frank Smith, AHØW, 5933 W. Grovers Ave. Glendale, AZ 85308-1101, U.S.A. Please send a self-addressed envelope with sufficient postage or IRC(s).
Source: http://www.qsl.net/eudxf/stories/k7k.html
---
The 2005 K7C DXpedition
This is the current operation (see elsewhere on this website).