NEWS: June 2013. THE OAKLAND MUSEUM has opened a new permanent exhibit on Cordell Bank. It is the largest and most externsive of a group of exhibits on California environments. The displays are extraordinary, and well worth a journey to see. The picture above is of a diorama at the museum; it si indistinguishable from the actual community on the Bank. For more information, see click here.
NEWS: CORDELL BANK ANNUAL REUNION. 9 Oct. 2011. Members of the Cordell Bank Expeditions gathered for the annual reunion. Click on the flag above (which was flown during some of the expeditions) for pictures.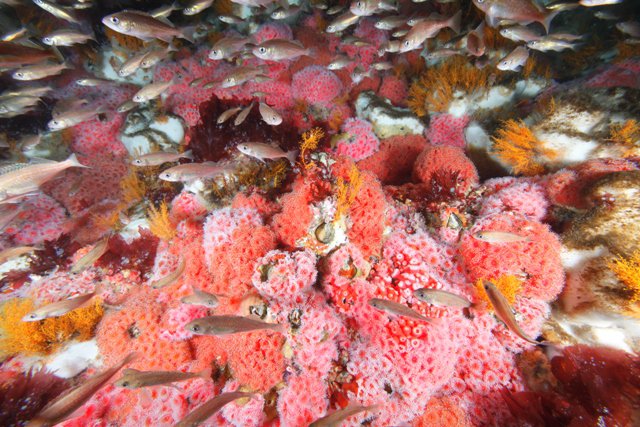 NEWS: Oct. 2010. The Cordell Bank National Marine Sanctuary fielded scuba divers for the first time. Some members of Cordell Expeditions were onboard, and the results were breathtaking! Click here!. KGO Ch. 7 did a news story. Click here!
MORE NEWS: 2010. The CBNMS has been compiling an oral history of the original exploration of Cordell Bank by Cordell Expeditions. Click here!